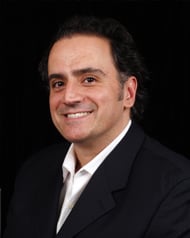 Ever since he was a child, George Ziyadeh, DDS knew he wanted to pursue a career in the health profession. Following in the steps of other family members, Dr. Ziyadeh entered the field of dentistry and, for the past 17 years, has enjoyed his work and changing the lives of his patients.
When a patient visits Gentle Dental, they can rest easy knowing that a highly educated dentist is ready to take care of their needs and treat them with tender care. Dr. Ziyadeh is proud that his dental office is the only one of its kind in the Detroit area to offer one-day dentures. With a lab on-site, he is able to treat his patients in the morning and to provide them with dentures by the end of the day. They do not have to wait days or weeks to receive their dentures.
"Our long-term hygienic relationships with patients allow us to identify potential cases early, prescribe convenient sleep studies, provide and adjust the appliances and deliver education and follow up," says Dr. Ziyadeh.
Dr. Ziyadeh encourages anyone who fears a visit to the dental office, to discover the difference with Gentle Dental. "A dental office shouldn't be scary. I cater to cowards who are apprehensive or nervous about a visit to the dentist. My main goal is to provide a relaxing, welcome atmosphere for patients and visitors."
"I pride myself on the gentle care I give and my office staff's warm and welcoming presence. I have built a solid reputation for 17 years at this office, and I know that I can help people of all walks of life have a beautiful smile," says Dr. Ziyadeh.
Education: